Peacham Antique Engine 2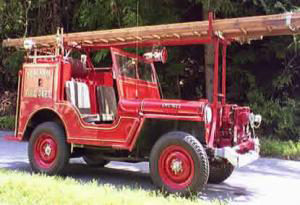 Peacham Fire Department also owns and operates a 1946 Willys Jeep CJ2A. This was the first piece of new equipment purchased by the fire department in 1950. While it no longer responds to fires it is still in service today as an antique unit and enjoys many a parade. This vehicle is known as Engine 2 or as Arthur's Baby as a tribute to long time and deceased member Arthur Noyes.
Read more about the department's Jeep and other Fire Service Jeeps featured on Derek Redmond's Fire Service Jeep page!